Course Overview:
This CEH course will immerse you into a "Hacker Mindset" in order to teach you how to think like a hacker and better defend against future attacks. Students are in the driver's seat with a hands-on training environment employing a systematic ethical hacking process. All while teaching students how to scan, test, hack, and secure target systems. CEH shows how hackers think and act maliciously so you can learn to better position your organization's security infrastructure and defend against future attacks.
This CEH course covers the Five Phases of Ethical Hacking, diving into Reconnaissance, Gaining Access, Enumeration, Maintaining Access, and covering your tracks.
This CEH course delivers in-demand ethical hacking skills while preparing you for the internationally-recognized Certified Ethical Hacker (CEH) certification exam (312-50) from EC-Council.
This course supports a certification that is DoD approved 8570 Baseline Certificate and meets DoD 8140/8570 training requirements.
What's Included:
EC-Council official E-Courseware
EC-Council official iLabs code with access for 6 months
EC-Council official Certificate of Attendance
CEH Exam Voucher
Dates/Locations:
Duration: 5 Days
Course Content:
Module 01. Introduction to Ethical Hacking
Module 02. Foot-printing and Reconnaissance
Module 03. Scanning Networks
Module 04. Enumeration
Module 05. Vulnerable Analysis
Module 06. System Hacking
Module 07. Malware Threats
Module 08. Sniffing
Module 09. Social Engineering
Module 10. Denial-of-Service
Module 11. Session Hijacking
Module 12. Evading IDS,Firewalls, and Honeypots
Module 13. Hacking Web Servers
Module 14. Hacking Web Applications
Module 15. SQL Injection
Module 16. Hacking Wireless Networks
Module 17. Hacking Mobile Platforms
Module 18. IoT and OT Hacking
Module 19. Cloud Computing
Module 20. Cryptography
Prerequisites:
Windows operating system and/or Linux operating system or other Unix-based OS
TCP/IP protocols and implementation
At least 2 years of IT security experience
Target Audience:
Information Security Analyst/Administrator, Information Assurance (IA) Security Officer, Information Security Manager/Specialist, Auditors, Security Professional, Site Admins, Penetration Testers, Red Team,Risk/Threat/Vulnerability Analyst, Individuals concerned about the integrity of network infrastructure
About us:
TechNow has taught security courses for almost 30 years, before most certifications existed and has successfully moved students through certification programs associated with IAPP, SANS, EC-Council and ISC2. Our instructor maintains over a dozen security certifications and has been the director of a company with internationals sales in security training, consulting, and compliance.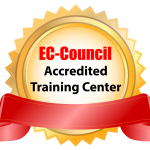 Tech Now, Inc. is an accredited Training Center with Ec-Council.
Comments
Latest comments from students
---
Liked the class?  Then let everyone know!