Course Overview:
This course is instructed with an instructor in the classroom with provided lab equipment and Cyber Range.
Students enrolled in the Certified Network Defender course, will gain a detailed understanding and hands on ability to function in real life situations involving network defense. They will gain the technical depth required to actively design a secure network in your organization. This program will be akin to learning math instead of just using a calculator.
This course gives you the fundamental understanding of the true construct of data transfer, network technologies, software technologies so that you understand how networks operate, understand what software is automating and how to analyze the subject material.
You will learn how to protect, detect and respond to, and predict threats on the network.  This builds upon the typical knowledge and skills of Network Administrators in network components, traffic, performance and utilization, network topology, system locations, and security policies.
You will learn network defense fundamentals, the application of network security controls, protocols, perimeter appliances, secure IDS, VPN and firewall configuration. You will then learn the intricacies of network traffic signature, analysis and vulnerability scanning which will help you when you design greater network security policies and successful incident response plans. These skills will help you foster resiliency and continuity of operations during attacks.
This course supports a certification that is DoD approved 8570 Baseline Certificate and meets DoD 8140/8570 training requirements.

What's Included:
EC-Council official E-Courseware
EC-Council iLabs access included for 6 months
EC-Council official Certificate of Attendance
CND Exam Voucher with 1 FREE RETAKE VOUCHER
Dates/Locations:
Duration: 5 Days
Course Content:
Module 01. Network and Defense Strategies
Module 02. Administrative Network Security
Module 03. Technical Network Security
Module 04. Network Perimeter Security
Module 05. Endpoint Security-Windows Systems
Module 06. Endpoint Security- Linux Systems
Module 07. Endpoint Security- Mobile Devices
Module 08. Endpoint Security- IoT Devices
Module 09. Administrative Application Security
Module 10. Data Security
Module 11. Enterprise Virtual Network Security
Module 12. Enterprise Cloud Network Security
Module 13. Enterprise Wireless Network Security
Module 14. Network Traffic Monitoring and Analysis
Module 15. Network Logs Monitoring and Analysis
Module 16. Incident Response and Forensic Investigation
Module 17. Business Continuity and Disaster Recovery
Module 18. Risk Anticipation with Risk Management
Module 19. Threat Assessment with Attack Surface Analysis
Module 20. Threat Prediction with Cyber Threat Intelligence
Prerequisites:
Basic network and host operations knowledge
Experience commensurate with one to five years of network, host, or application administration
TN-325:Security+   or equivalent
Courses to follow:
Target Audience:
Network Administrators, Network Security Administrators, Network Security Engineer, Network Defense Technicians, Network Analyst, Security Analyst, Security Operator, and anyone involved in network operations
About us:
TechNow has taught security courses for almost 30 years, before most certifications existed and has successfully moved students through certification programs associated with IAPP, SANS, EC-Council and ISC2. Our instructor maintains over a dozen security certifications and has been the director of a company with internationals sales in security training, consulting, and compliance.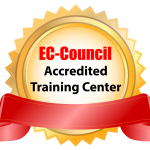 Tech Now, Inc. is an accredited Training Center with Ec-Council.
Comments
Latest comments from students
---
Liked the class?  Then let everyone know!